How To Celebrate International Talk Like A Pirate Day
It's ridiculous that in 2002, a pirate-themed "trash-talking" session between two friends started a tradition that caught the attention of columnist Dave Barry. And it's ridiculous that over a decade later, International Talk Like A Pirate Day gets bigger every year – ridiculously awesome! This "ridiculous" celebration of all things piratical has given co-founder Mark "Cap'n Slappy" Summers over ten years of cherished traditions , new friends and laughs.  We'd like to inspire you to create your own Talk Like A Pirate Day memories this September 19th with themed activities, DIY costume ideas, pirate lingo guides and a look back at some of Cap'n Slappy's favorite adventures past.
First things first. If you're going to be a pirate for a day, you are going to need a name fit for ruling the high seas!
Alter Ego:

Choose wisely! You can gussy up your own name, or plug it into a handy name generator to get a new pirate personality and title. From here on out, this lass be bloggin' as Stella "Both Barrels" Horn, savvy?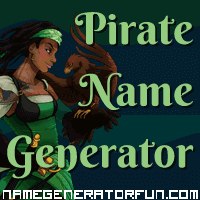 "The Treasure of Volcano Cliffs!"
This pirate be a priceless catch, with a heart of gold and teeth to match!
Get your own pirate name from the pirate name generator!
Talk The Talk:
Make no mistake, me hearties, truly mastering pirate lingo is no trifle. But according to this list from the official Talk Like A Pirate Day website, you only need a few key phrases to get into the spirit! Here be the basics:
Ahoy! – "Hello!"
Avast! – Stop and give attention. It can be used in a sense of surprise, "Whoa! Get a load of that," which today makes it more of a "Check it out" or "No way!" or "Get off!"
Aye! – "Why yes, I agree most heartily with everything you just said or did."
Aye aye! – "I'll get right on that sir, as soon as my break is over."
Arrr! – This one is often confused with arrrgh, which is of course the sound you make when you sit on a belaying pin. "Arrr!" can mean, variously, "yes," "I agree," "I'm happy," "I'm enjoying this beer," "My team is going to win it all," "I saw that television show, it sucked!" and "That was a clever remark you or I just made." And those are just a few of the myriad possibilities of Arrr!
Lookin' to take your pirate prowess to the next level?  Feast yer eyes on A Pirate's Glossary of Terms and Pirate Treasure Now.
Or, if you're a lazy landlubber, there be a host of pirate translators so ye can tweet, share, email and blog like a buccaneer.
Talk Like A Pirate.com Translator
Want to celebrate via yer magic squawk box? Thar be an app for that:
Pirate Translator Dashboard App For Mac
Pirate Translator App for Windows
iPatch– Turn anyone into a seafarin' scallywag with this photo editing app!
uPirate– Snap a picture, and this app will add a caption full of pirattitude!
Walk The Walk:
Name? Aye! Vociferous vocabulary? Aye! Now it be time to tap into your true sailor swagger.
Party Like A Pirate: 'Tis all well and good to play the part of a buccaneer, but if ye truly want to get in the spirit, give one of our pirate-themed adventures a go!
Dark Star Pirate Cruises of Wildwood Crest- NJ
Old New Orleans Rum Distillery and Tasting Tour- LA
Pirate Adventure Sail on the Schooner Serenity- VA
Taverns: Patriots, Pirates and Prostitutes- NYC
Dress The Part: No need to blow all yer doubloons. Take a gander at these DIY pirate costumes.
How To Make A Pirate Costume via WikiHow
Fer The Kiddies: How To Dress Like A Pirate via Kidspot
Or, ye could just throw a quick pirate headscarf on to smartn' up yer look.
How To Tie a Pirate Head Scarf– Video tutorial of a basic scarf tie via Captain Jack's Pirate Hats.
Fer the fashionable lass or lad, give the Pirate Fleur scarf tie a try.
Adventures Past
After ten years you would think I would have a ready answer to the question, "What's been your favorite Talk Like a Pirate Day memory?"
This adventure has seen me waking up on September 19th in ports as diverse as Los Angeles, Philadelphia and Fairbanks. All of them, mARRRvelous, wondARRRful experiences…
In Los Angeles we were guests of the wonderfully generous Clay "Talderoy" Clement and his amazing all-day (and all night) party at Studio City Tattoo. Both John "Ol' Chumbucket" Baur (co-founder of International Talk Like a Pirate Day) and I got our first "ink" on that visit and had about as much fun as anyone can imagine (or should imagine). It sparked a friendship with Clay that continues to grow in both pirate life and real life.
In Philadelphia, John and I guest hosted the National Geographic's traveling "Real Pyrates" exhibit – displaying artifacts recovered from the wreck of the pirate ship, Wydah, that went down off the coast of Nantucket. The fact that a couple of goofballs from Oregon were guests of the National Geographic at The Franklin Institute came as a shock to anyone who knew us. But there we were – as if proximity to the likes of "Black" Sam Bellamy might somehow confer on Ol' Chumbucket and Cap'n Slappy the designation of "Real Pyrates" as well. The following year I found myself a single act in Fairbanks, Alaska. For a place that is seemingly remote they have a wealth of radio and television stations and I was guest in all of them. My hosts chauffeured me in a white stretch limousine… I went on the afore-mentioned media blitz, talked to the honors students at the University of Alaska Fairbanks, did a live evening radio show for Public Radio and drank and danced like a drunken pirate at an Oktoberfest Celebration.
But when I think of my "favorite" memory of all of the International Talk Like a Pirate Day celebrations – the "ghosts of ITLAPD past," – it's always about the people. The unbridled generosity and enthusiasm of dear friends like Clay "Talderoy" Clement and Robert "Cockroach" Ramstead. The tireless efforts of our young "handler" from National Geographic (whose name sadly escapes me after all these years) who brought us TWO kinds of authentic Philly cheesesteaks  at 1:00 a.m. while we were doing phone interviews in an empty conference room at the hotel.
Or perhaps this moment – permanently scrimshawed in my memory.
It was the second or third year that International Talk Like a Pirate Day was a "thing." We had been invited to an early morning talk show in Portland. I drove John and his daughter, Millie, and myself to the television station and the interview went off easily – we were old pros at this by now. But it was after – John had been invited to a little cantina on the docks on the Willamette River by an early fan of Talk Like a Pirate Day. We had been up most of the night doing interviews and had miles to go to get back to Albany and sleep. The cantina was little more than a wood and metal shack on the dock – but the coffee was hot and the muffins were delicious. Millie, now an adult and aspiring New York actress, was just in middle school at the time and she chatted delightfully about school and boys and … life. She knew she was there to keep us awake – and she knew that talking would be a part of it – a skill she possessed in abundance. But as we sipped our coffee and watched the sailboats – big and small, pristine and … we'll say, "weathered," bobbing up and down in their berths – a nautical lullaby – I looked at John and smiled. He smiled, too. We both knew what a strange adventure we were on – but were not yet aware of just how big this thing would be.
But that moment. The water. The coffee. The ships. Millie's voice. The beauty and absurdity of all of it – that is probably my favorite moment of all of my Talk Like a Pirate Day memories.
– Mark "Cap'n Slappy" Summers, Co-Founder of International Talk Like A Pirate Day